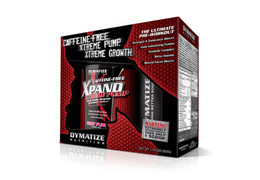 Dymatize Xpand
Pre-workout nitrous oxide booster
Xpand was specifically designed to provide mind-blowing pumps, maximum creatine uptake, and ultimate muscle recovery for the most insane workout of your life! With a massive 5 grams of creatine in our exclusive Strength and Endurance Matrix and 3.5 grams Vaso-Volumizing Arginine, XPAND® XTREME PUMP ensures you are getting the most out of each and every workout.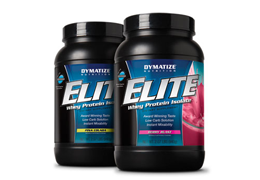 Dymatize Elite Whey
Whey Protein Supplement
The Elite 2 pounder is the perfect blend of whey protein concentrates, ion-exchange whey protein isolates, and whey peptides. Elite has no added sugar, fructose, salt, or carbohydrates.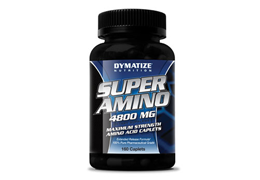 Dymatize Super Amino
Amino Acid Complex
Amino Acids are the building blocks of muscles and are essential to help create and maintain positive nitrogen balance, which is important for new muscle growth. Amino acids also play a key role in preventing catabolic breakdown of muscle proteins, which help to rebuild muscle tissue after intensive exercise.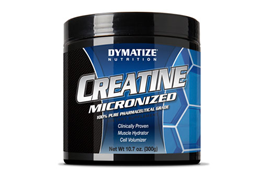 Dymatize Creatine
ATP Enhancer
Dymatize 100% pure pharmaceutical grade Creatine Monohydrate improves your muscles' performance during high intensity activities such as weight training, running and any other aerobic or Anaerobic exercise.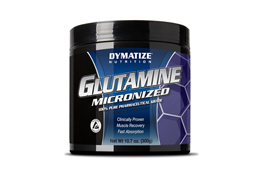 Dymatize Glutamine
Micronized L-Glutamine complex
L-Glutamine, the free amino acid, is the single most abundant amino acid present in skeletal muscle. L-Glutamine may support muscle tissue by limiting the degradation of protein through nitrogen retention, glycogen synthesis, and protein synthesis.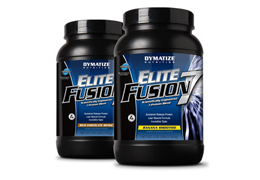 Dymatize Elite Fusion 7
Protein blend / Meal replacement
ELITE FUSION 7™ is designed to be the most delicious, highly effective, sustained-release protein supplement on the market today. ELITE FUSION 7 makes it easier than ever to consume the right amount of protein and perfect combination of protein sources needed to capitalize on lean muscle development and recovery!